Artificial Cricket Pitch Construction
CJ Sports is an artificial cricket pitch construction and maintenance specialist. Over the last 35 years we've helped hundreds of schools and clubs like yours continue playing cricket no matter the weather.
To get the best competitive artificial cricket pitch quotation use our quick contact form or call us on 0116 269 3562.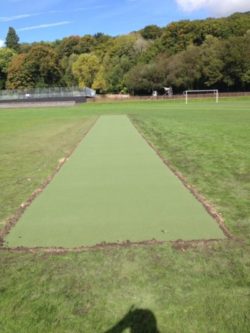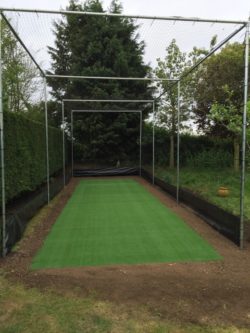 Artificial Cricket Wickets
Over the last 35 years we've seen a huge increase in artificial cricket wicket installation as modern synthetic surfaces replace poorly constructed bases and inferior carpets.
Installing an artificial cricket pitch can also help lower costs, as repair and maintenance costs are almost non-existent compared to turf cricket pitches. It therefore makes sense that more organisations are investing in artificial cricket wickets for both practice nets and match days with guarantees of a consistent weather resilient surface.
ECB Compliant Pitches Guaranteed
At CJ Sports we use the finest materials to ensure your synthetic cricket pitch installation complies with ECB standards which give you a pitch to use in any condition, all year round.
As well as guarantees on our workmanship, our British made Wilton weave carpet requires minimal maintenance over its expected 15 year lifespan, whilst the dense fibre shock pad and dynamic base will continue in service for many years after. To discuss your new wicket use our contact form or call us on 0116 269 3562.
Artificial Cricket Wicket Specifications:
Sizes:
Our wickets are supplied in the following sizes as standard:
30m x 2.74m Match Pitch Wicket
11m x 2.74m Long Batting End
8m x 2.74m Long Bowling End
*Bespoke sizes can be requested
Cricket Carpet Material:
Premium British Made Wilton Weave Carpet
Eco Needle Punched Tufted Turf Carpet
Cricket Wicket Bases:
Hard Porous Bases
CJ Sports also offer the very affordable Hard Porous Based artificial crickets wickets, this base comes with dense British made fibre shock pad which protects the dynamic base below. This fibre shock pad ensures an extended lifetime without maintenance for your base.
Our hard porous bases are very low maintenance and are long lasting at the same time. With the ability to be used during all weather conditions without an impact on performance throughout the match, this base is one of the favourites when it comes to artificial wickets.
Dense Concrete Bases
Cricket is a sport of all-comers and the dense concrete base is ideal for coaching beginners, irrespective of their age. The artificial cricket pitch stays true to give players the best chance to get used to the bounce and pace of the ball. They require less maintenance than a hard porous pitch, which suits open spaces or grounds which have suffered vandalism previously.
The dense concrete is tamped to a flat finish to give a higher and even bounce. Once the concrete has dried and cured, a special adhesive is used to stick the carpet onto the concrete. The carpet is of needle punched construction (fibre bonded) with a pile height designed for cricket.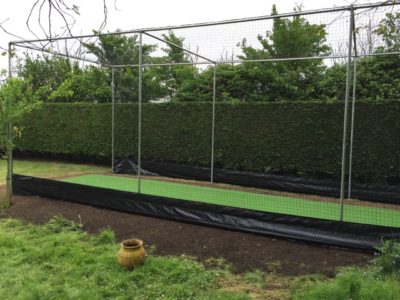 Find Out More About Artificial Cricket Wickets & Installation
Get in touch for more information on our artificial wicket and synthetic cricket pitches, as well our non turf cricket pitch installation services. Our wealth of experience gained over 35 years means CJ Sports can quickly and safely construct install your wickets in any environment to give you the consistent playing surface you demand from your artificial cricket wicket.