If you have had a tennis court installed recently, it's important to be aware that, whatever the surface you've chosen, proper tennis court maintenance is vital. 
Having the use of a tennis court at your disposal is a fantastic opportunity to keep fit and active – but, if you don't look after it, you won't be getting the best out of it for very long. When a tennis court is installed in your home it is a big investment – one which could well increase the value of your home considerably – but it can be a large waste of money, if it is allowed to fall into disrepair. 
Tennis court surfaces are designed to withstand the wear and tear of an outdoors environment, especially artificial surfaces, which recover quickly from wet conditions. However, heavy use and lack of regular tennis court maintenance throughout the year means that the court will gradually deteriorate and eventually become unusable. 
Tennis court maintenance tips
When it comes to tennis court maintenance, there are some fairly simple things you can do yourself to help look after it. These include the following:  
Get rid of any rubbish, leaves and debris by sweeping the court regularly 

Powerwash or jet wash the surface 

Remove any food or drink spills which may be acidic and damaging to the court if left 

Don't leave standing water on the court – it's not only dangerous for slips and falls, but, over time, it can damage the surface 

Remove any bird or animal droppings from the court – this can damage the surface too

Don't allow moss or vegetation to grow – it not only looks bad, but it can make the court unsafe and damage it beyond repair
Time for professional help?
When your tennis court has developed problems which have got out of control and you want it looking as good as new again, then it's time to request professional help from the experts. Even if you've carried out rigorous tennis court maintenance on a regular basis over the years, wear and tear over time, as with anything, is unavoidable. 
While there are many different types of tennis court surfaces you can have installed, which offer completely different types of play, one thing remains the same and that's that they all require some form of tennis court maintenance. Of course, different courts, such as real grass, or synthetic grass courts require different types of maintenance and can encounter different types of problems, but it's important that they're all looked after in the correct way.
If the court has become waterlogged from contamination, moss has been allowed to get out of control, or there is damage to the court which you can't repair yourself, such as rips in the carpet, or broken seams, then we can help to fix the problem and get your tennis court looking perfect.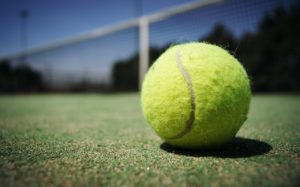 Tennis court maintenance quote 
At CJ Sports, we offer synthetic grass, rubber and hard surface tennis court maintenance, moss treatments and all types of tennis court cleaning services. Our team comes with around 40 years experience in tennis court installation, groundwork, tennis court repair and maintenance. We would be pleased to get your court looking great again (or, indeed help ensure it stays looking great).
Get in touch with a member of our team for a free professional tennis court maintenance and repair quote today.